Everybody needs a favorite burger.
In Amarillo, we frequented a family spot where you placed your order and waited until the familiar words rang out on the sound system for all the patrons to hear: Brenda, YOUR BUNS ARE UP.
In Austin, when it's time for a burger (and somehow, we all just know when it's time, don't we?), we make a mad dash to the nearest P.Terry's Burger Stand. With 14 locations, we've never had to go very far for a 100% real beef, never been frozen, cheeseburger on a wheat bun – with real Idaho potato-fries, of course. Even the ketchup at P.Terry's tastes a little above the norm.
When we moved to Austin, we Googled-around, looking for all the best burgers. From 17 Burgers to Eat Right Now in Austin to 25 Burgers to Eat Before You Die, there's no shortage of burger business or best-burger-bravado.
It just depends. Do you want to enjoy a burger at happy hour (Vince Young's Wagu Brisket Burger is fantastic) OR gather a group of friends for a one-and-only Hopdoddy Burger Bar experience on South Congress …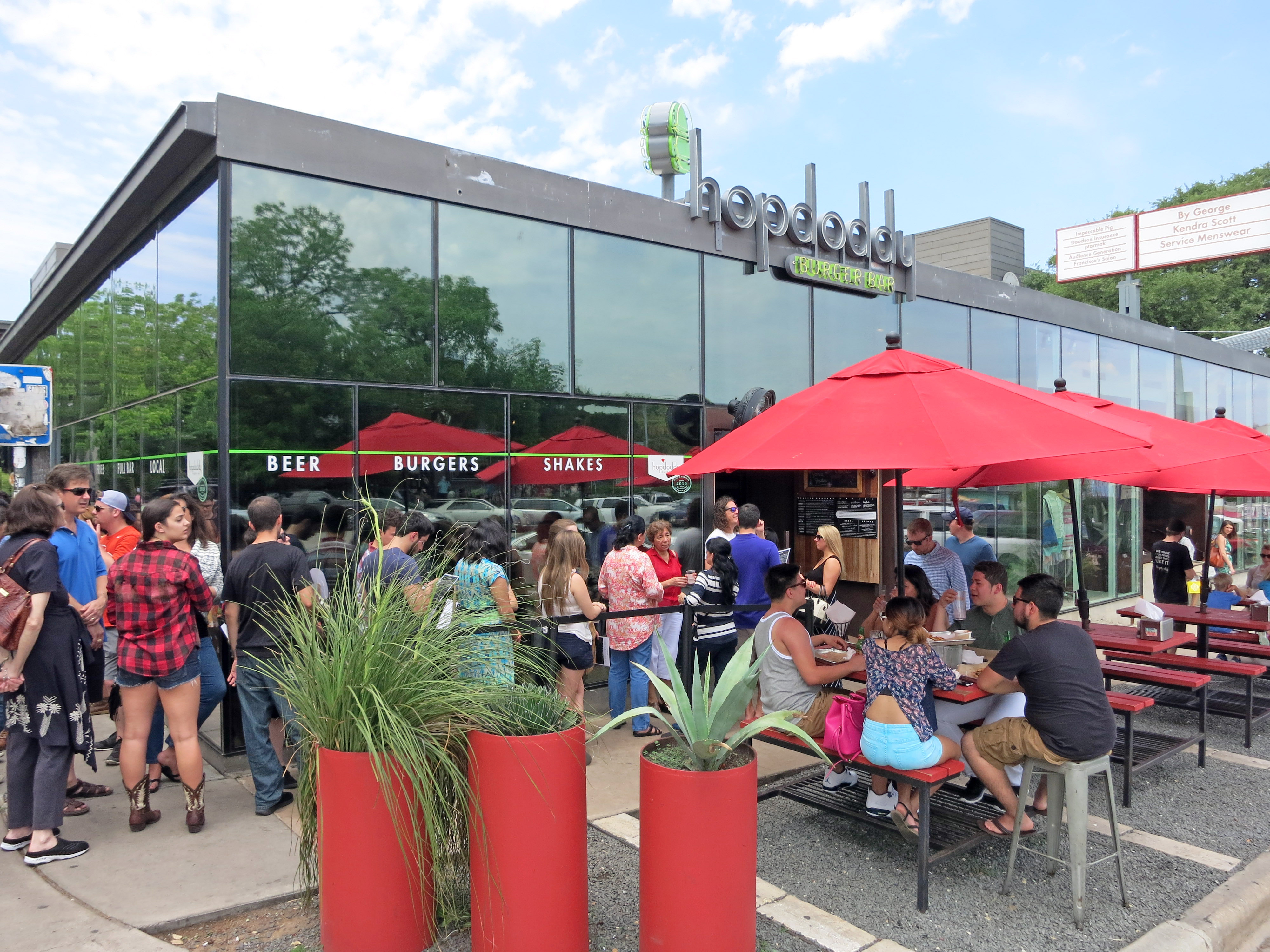 … OR do you want to drive through a P.Terry's Burger Stand after work, snitch a few hot fries out of the bag on the way home, slip into your house britches, turn on America's Got Talent and eat with your favorite guy?
THAT's mostly why P.Terry's Burger Stand is our favorite burger. Not only is it truly delicious, and not only do we love eating one while watching our favorite weeknight shows, but it's just convenient and fast (without tasting fast-food-ish).
And if you want to actually eat it outside on a 108 degree day when everyone else was smart enough to go inside, you can enjoy the turquoise tables that match P.Terry's turquoise drink cups.
I'm glad we've found our new favorite burger in Austin. Everybody just needs a favorite burger to make it feel like home. 
Encouraging intentional adventure and, of course, your very own favorite burger,
PS – How about you? What's your favorite burger spot?